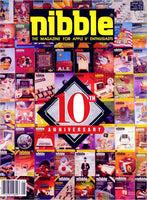 Welcome to Nibble Magazine...
WELCOME! It's hard to believe that more than thirty years after the Apple II came on the scene, there are still enthusiasts gathering the bits and pieces that still linger from the 1980's.  My father, Mike Harvey, made Nibble Magazine his passion.  With the help of a lot a contributors, friends, and family he was able to contribute to the Apple II (and Mac and PC) community for over 12 years. 
Feel free to explore and reach out to us directly, as we want to make this site a destination for all looking to recapture the excitement, nostalgia and wonder of the first significant PC---the Apple II.   The magazine, programs, and books that Nibble published are all available here for purchase as well.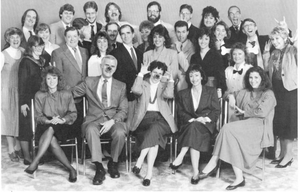 The Nibble Story
My father, Mike Harvey, started Nibble in our living room in January 1980.  Nibble survived longer than most Apple II magazines. His original advertisement was keyed to "the little guy" trying to learn about these new home computers and what they could do.  My dad did the original ad on an IBM Executive typewriter after carefully measuring the letter weights and counting the spaces to create proper column justification.
My dad had spent his career in large companies like IBM and Xerox, and he wanted to make sure that he was not under the pressure of banks or investors. So he worked out our family savings,  running the company on a "pay as you go" basis. He printed enough of the first issue, 42 pages long in black and white, to mail to the few who responded to his ad.  The rest were were sent free of charge to Apple dealers to make them aware of Nibble's existence.
Their initial schedule was for eight issues per year,which was what he could afford to put out. By mid 1981 the magazine had grown to the point where he could quit his regular job (president of a subsidiary of Exxon Enterprises) and work full-time as publisher of Nibble. Eventually its newsstand distribution had to be curtailed, and in the end Nibble was available only by subscription.
Nibble was a great place to learn how to write programs. Their published listings were well commented, and the tricks used by the programmers who wrote their articles were available for all to see and learn. Along with the various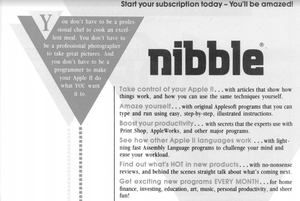 utilities they published were games (some that were very complicated with long tables of hex bytes to enter). They also included in later issues reviews of various commercial software products (which I did), and we always made available disks containing all of the programs from a single issue of the magazine,for those who didn't want to enter by hand the programs.
In April 1985 a section was added to the magazine called Nibble Mac, to cover topics of interest to Macintosh users. Later in 1985 this was split out and a separate publication (short-lived) with the same title was printed to concentrate on the Macintosh users.
Nibble also helped establish the concept of copyright protection on program listings printed in magazines. This was important to Nibble, as they sold disks of their old programs to save readers the trouble of typing in by hand the long listings.
I had the good fortune to work with my father as I worked at Nibble during high school and college.  I enjoyed working in the shipping department, working in editorial, and writing product reviews.   My dad was a great supporter of his people, and he is remembered fondly by those in the industry.
.
Most Popular MicroSPARC Publications